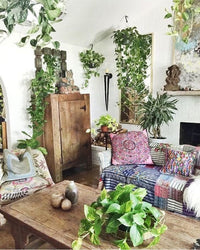 'Biophilia', according to the Webster's dictionary, is defined as the' human tendency to interact or be closely associated with other forms of life in nature'.   That is as humans, we want to surround ourselves with other natural species besides, well, ourselves. These 'other forms of nature'  have been evidenced   today by the houseplant craze, the appreciation and consumption of local food,  planting your own 'victory garden', or spending more time outdoors.  Indeed the COVID 19 pandemic has arrestingly brought into focus how we as humans are seeking out ways to live in a way whereby we can surround ourselves with nature.
Urbanization has been the global trend ever since the 'Green Revolution' when advances in production technologies lured people away from the farms and rural areas in favour of a life of increased sophistication / opportunities in the cities.  So much so that today over 55% of the global population lives in an urban area, and according to predictions set by the United Nations that will grow to 68% by 2050.
The 'busy-ness' of the city has often been the attraction, however, back in the 1980's , an American biologist by the name of Edward O. Wilson, observed how increasing rates of urbanization were leading to a disconnection to the natural world.  The consequences of this has sadly led to stress levels across the globe that the UN calls a global health  emergency for the disease.  More and more of us are looking to 'dis-connect' from our phones, the 'tangle' of the concrete jungle, and even though we cannot completely escape a world that we have constructed ourselves, we choose to soften it and bring those natural elements  to our spaces in order to make us feel happier, better, healthier.
How many of you feel a sense of calm, a smile bubbling to the surface when you look at the peace lily sitting on your desk? Or feel the rush of anticipation as you sift your fingers through the ground as you plant a row of beans? How many of you have added so much artfully arranged shelving just so that you can place more trailing plants over your bed? These are all elements of 'biophilic design'.    Adding direct or indirect elements of nature into the space have been demonstrated to reduce stress,  blood pressure levels and heart rates, whilst increasing productivity , creativity and self reported rates of well being.
A trip to the Garden Centre has become an event for many to seek out those very elements to build your own version of 'biophilia' in your work and personal spaces.  Our  Sun Harvest team is always working hard to build an exceptional customer experience whether it be chatting about your next houseplant purchase, leading a nature- inspired workshop, inviting you to cut a bouquet of flowers in our cutting garden, helping you choose garden plants that bring colour and joy to your outdoor spaces or filling your belly with our  tasty, nutritious produce.
We want to be your first choice in living out your 'biophilic' dreams and when we reopen our doors to welcome you back on March 10th, we can't wait to surround you with Plant Life!