Recipes
Allison's Caesar Salad Dressing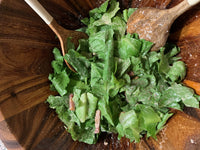 This recipe was inspired by a great Canadian Living Magazine recipe that I adapted over 25 years ago. It is a family favourite and I am just so excited to share it with you as you enjoy our home grown  hydroponic Romaine lettuce.
Serves 4.
In a bowl combine:
2 cloves Sun Harvest garlic (minced)
1 tbsp mayonnaise
1 tbsp Dijon mustard
3 tbsp red wine vinegar
1 tbsp lemon juice
1 tsp anchovy paste
1 tsp white sugar
A dash of tobasco hot pepper sauce.
Whisk in 1/4 cup olive oil .
Add 1 tbsp parmigianno reggiano cheese, pre cooked bacon crumbled.
Toss with Sun Harvest Romaine lettuce, shave parmigianno reggiano cheese on top, add freshly ground pepper and enjoy this crowd pleasing salad.
* You may increase the volume of all ingredients respecting proportions if you are feeding more people.