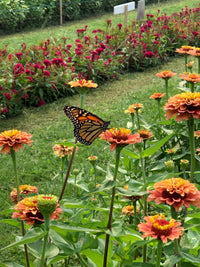 Last year the Canadian Garden Council (CGC) asked the Canadian Parliament to consider proclaiming the year 2022 as the 'Year of the Garden' to commemorate the centennial of Canada's ornamental  horticulture sector and the 100th anniversary of the Canadian Nursery Landscape Association. 
Canadians' passion for gardening has never been been more evident since the COVID 19 pandemic began and has encouraged us to spend time greening our lives both indoors and out.  And this trend seems to be morphing as a new way of life for many who derive much fulfillment from growing their own food, and beautifying their outdoor spaces with  colourful plants. So last March, the Canadian government indeed voted favourably on this request and here we are on the cusp of a year that could build a legacy of a healthier people who spend time outdoors, improving quality of life by cultivating a place that promotes a healthier environment better equipped to  tackle the problems of climate change, and all of this because we like to play in the dirt.
There will be many opppotunities to celebrate our rich gardening heritage, and you can start by visiting the website www.yearofthegarden.ca for more information.  You can bet we will be joining the party so check in with us often for event announcements and collaborations in our garden community. 
Let's live our best life this year, Covid cannot take this away from us..
Here's to a great year ahead in the garden ;)