Recipes
Sun Harvest 'Team' Tomato Soup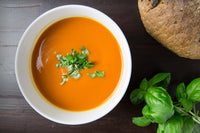 This recipe has been shared and 'tweaked ' by everyone on Sun Harvest  staff and the verdict is unanimous – silky , delicious soup!
9 -12 ripe Sun Harvest Tomatoes on the Vine, quartered lengthwise
3 red bell peppers, quartered and seeded
2 red onions, trimmed and each cut into 8 wedges
2 cloves Sun Harvest garlic, quartered lengthwise
1 tsp Kosher or sea salt
Pepper
1 tsp paprika
6 large fresh SunHarvest basil leaves chopped
1/3 cup olive oil
Place all together in roasting pan and mix well to coat.
Heat oven to 350 F
Roast coated veggies for 1 hour , stirring occasionally.
Remove from oven (transfer to sauce pot) and let cool for 10 to 15 min
Puree the vegetable mixture with 2 cups of Chicken broth until smooth.
Stir in ¼ cup heavy cream and heat the soup until warmed.